With the increasing use of vehicles, waste tires have gradually become a big burden on the environment. Shredding and recycling waste tires can give full play to the potential value of waste tires, save resources and protect the environment. How to shred waste tires? A waste tire shredder is an ideal solution. The waste tire shredder machine is a dual-shaft industrial shredder specially developed for various types of waste tires, like car tires, bus tires, truck tyres. After being sheared and torn by a waste tyre shredder machine, scrap tires can obtain the size required for subsequent regeneration processes such as cracking oil refining, cement kiln incineration, and tire grinding.
Why to recycle waste tires?
With the rapid development of the automobiles industry, the use of cars has become increasingly popular, and raw rubber resources have become increasingly scarce. In addition, the tire itself is consumable, as an important part to ensure driving safety, so it is inevitable that new tires will be replaced frequently, and the old tires will be discarded due to deficiencies in various aspects. The accumulation of a large number of waste tires will cause environmental pollution.
Waste tires have high recycling value, and the output of renewable resources such as fuel oil, carbon black, steel wire, and rubber powder can create considerable economic benefits and have great development potential. How to effectively recycle scrap tires has become a problem to be solved by people all over the world.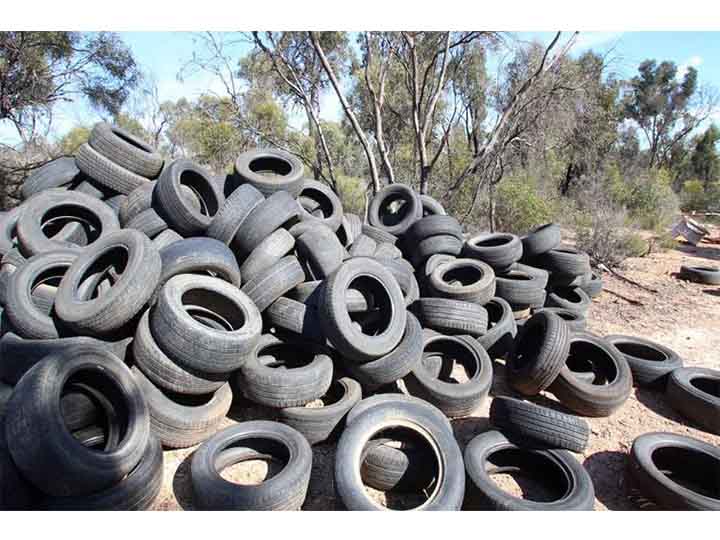 Why need a waste tire shredder?
Tires are very strong, and it is difficult for ordinary machinery to shred them. Some people rely on the purchase of expensive or high-power and low-efficiency equipment, and the investment cost is too high; some cut waste tires by hand and then shred them. The recycling efficiency is extremely low, and it is time-consuming and labor-intensive. How to utilize waste tires in large quantities economically and effectively has become a topic of rubber recycling.
To meet market demands, we have specially developed a waste tire shredder for handling various waste bulky objects such as used tires, waste plastic barrels, scrap metals, waste wood, etc., which are convenient for further processing. After the tires are shredded, they can be ground into a rubber powder through milling equipment for reprocessing and recycling. This scrap tire shredder not only reduces environmental pollution but also brings economic benefits. The rubber shredder machine is easy to operate as it only needs to throw the whole tire directly into it, and tyres can be shredded into small pieces and come out, which is very convenient and reduces labor.
The combined structure of the double-shaft shredder and the annular trommel screen combines crushing and screening into one, ensuring that the output and discharge size meet the production requirements at the same time. The tyre shredding machine can easily deal with car tires, bus tires, truck tires, pneumatic tires and solid tires, engineering tires, and other types of waste tires.
Outstanding characteristics of tire shredding equipment
Strong shearing force. The unique rotary knife is designed and processed in terms of thickness, shape, arrangement order, etc., with strong shearing force and sharp blade, which can efficiently grab materials for crushing.
Stable operation with advanced gear reducer. Low speed, low noise and less dust.
Sharp and durable blades. The blade is made of special alloy steel, which is strong and durable. A variety of blade molds are available.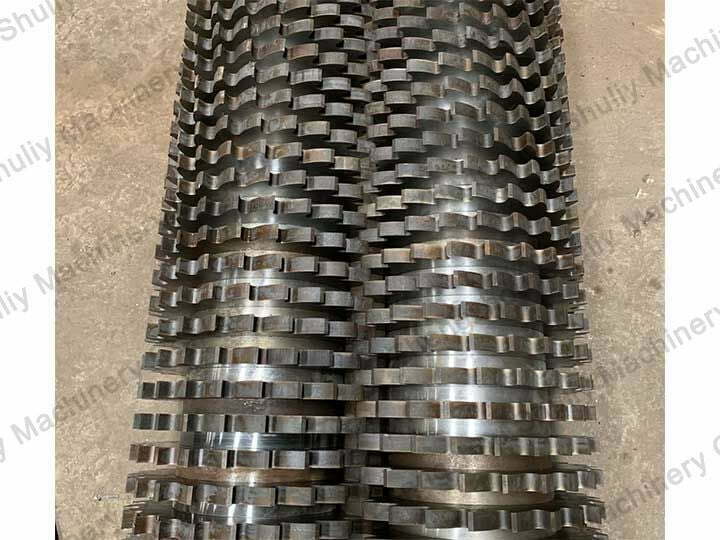 The blades of the waste tire shredder are made of high-quality tool materials and combined with advanced vacuum heat treatment and cryogenic treatment technology. As a tire shredder manufacturer, we can provide customers with personalized services, and offer the most suitable tool for the customers according to their use and working conditions.