The automatic scrap metal chips briquette machine(vertical metal briquetting machine, hydraulic metal press machine) is the important waste metal resources recycling equipment for briquetting various of metal chips and metal powder, such as iron scraps, iron, and aluminum chips, copper and steel shavings and so on. This metal chip briquetter can cold press various powder or granular metal scraps directly into 3-15 kg cylindrical cakes for easy transportation and furnace operation. The entire briquetting process does not require high temperatures, additives or other processes. The density of steel scrap after briquetting can reach 5-6 tons T/m³.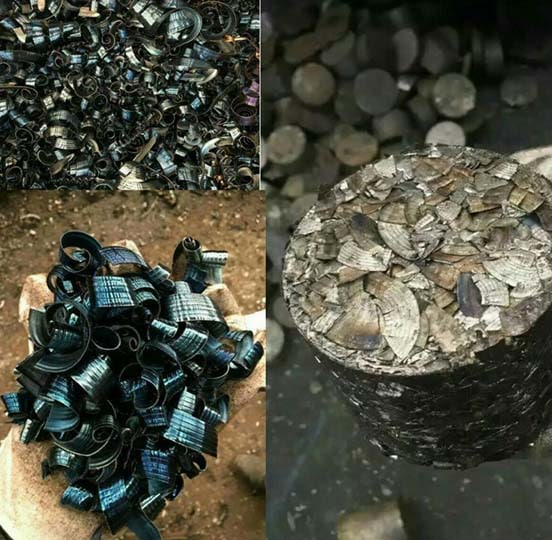 Why use the metal chip briquette machine?
At present, most metal processing plants and steel foundries do not pay enough attention to the treatment of metal scraps and chips. Most of the metal scraps are stacked randomly, which will not only cause a waste of resources, but also cause serious environmental pollution.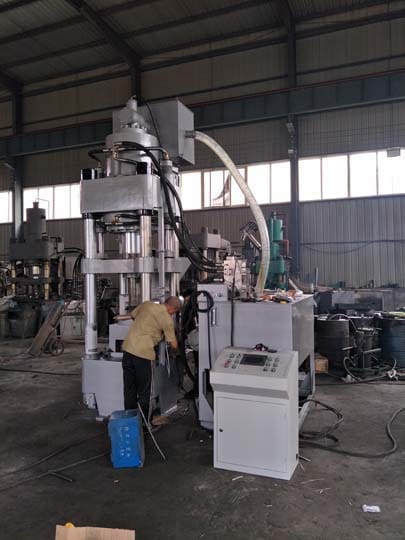 Especially in some large-scale open-air metal chip stacks, most metal chips are shipped in bags or iron boxes and then sent to other places by the trolley that transports the metal chips. During the whole process, metal chips will fall in various places, causing land pollution and waste of resources. The metal chip briquetting machine can squeeze most of the scrap metal materials into a cylinder and various sizes of blocks, which can effectively reduce the waste of metal resources and reduce transportation costs.
Metal scraps chips briquetting machine description
Fully automatic metal briquette machine adopts an intelligent PLC control program, its main components: the mainframe is made of cast steel upper and lower beam structure, durable and never deformed. The four hydraulic columns adopt advanced chrome plating technology, which is beautiful and elegant, safe and reliable. The hydraulic oil tank is used to store the working medium. The hydraulic oil is 46 # anti-wear hydraulic oil.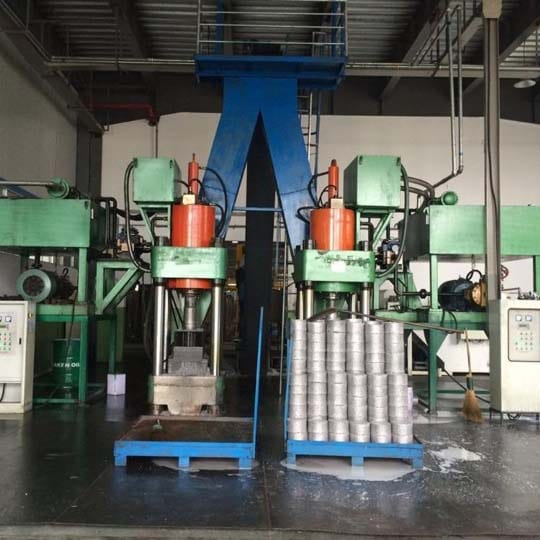 The electrical control system of the aluminum chip briquette machine is used to control the action of each cylinder. The hydraulic valve group of the metal chip press machine uses a high-density, large-diameter oil circuit, which has a large flow rate and fast speed. The power system of the machine is composed of a motor and an oil pump, with high quality, stable operation, low failure rate, and strong continuous working ability.
Applications of the metal chips press machine
This vertical scrap metal briquette machine is widely used in aluminum alloy profile plants, steel casting plants, aluminum casting plants, copper casting plants, and most waste metal resource recycling stations. It can return aluminum chips, steel chips, iron powder, copper chips and other briquettes to the furnace. Replace scrap steel, iron chips, aluminum ingots, and scrap copper as raw materials to reduce burnout. This hydraulic metal briquetter machine can briquette these metal scraps into a cylindrical shape with different adjustable diameters and lengths.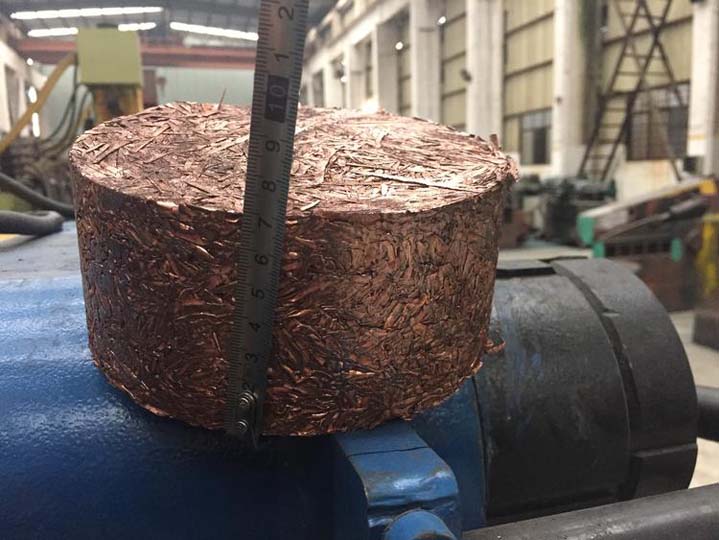 Main features of the scrap metal chip briquettes press machine
The aluminum chip briquette machine can be used with automatic conveying equipment and form a fully automatic metal chip briquette production line. The metal chip briquette production line includes large steel chip storage silos, conveyors, air compressors, steel chip crushers, and other auxiliary equipment. As a professional manufacturer of metal recycling equipment, our machines can meet customers' needs for highly automated production and reduce labor costs.
The iron chip briquetting machine has different models and production capacities. We can choose the model and specifications of steel briquetting machines for customers according to their specific needs, and we can also help customers customize the production line. The metal chip briquette machine is a product that we independently design and manufacture, which is easy to use, high efficiency and stable product performance.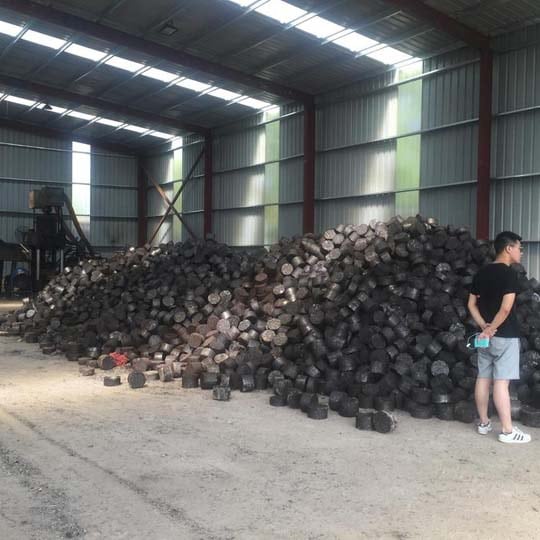 Working video of the vertical metal briquette machine
The metal chip briquette machine is also suitable for pressing coconut husk powder. The following is the video of squeezing coconut husk powder, producing 4 bricks each time.
Coconut fiber powder briquetting machine, making 1 hollow brick each time.