Vertical baler is equipment that compresses and packs waste plastic bags, plastic bottles, waste cardboard, and other materials. Its package is compact, neat, and beautiful, which can greatly reduce transportation costs. The materials processed by the vertical baling machine have the characteristics of high density and easy storage and transportation into regular shapes. It is especially suitable for large retail stores, cotton-producing areas, textile companies, hotels, garment factories, waste recycling stations, and various other light industrial enterprises. Shuliy Machinery is very mature in the technology of manufacturing recycled machinery and can fully consider the interests of customers. Our company also supplies the scrap metal baler and horizontal baler.
Application scope of vertical baler
There are innumerable packages that are unpacked every day in major commercial areas, and they vary in size and take up a lot of space. If they are not handled properly, they will increase the cost of garbage disposal and consume a lot of manpower and space.
The vertical baling press machine is a method of compressing recyclable materials into regular shapes such as cuboids, cubes, etc. by means of a hydraulic system. The hydraulic compactor is suitable for compressing and packing waste paper, cotton, used clothing, straw, hay, plastic bottles, wool, and recyclable garbage. It can also be used for waste cartons, waste cardboard, waste paperboard, tires, yarn, tobacco, cloth, woven bag, knitted velvet, wool ball, and all other loose materials.
After pressing, users can bundle the materials with iron wire or plastic tape and take them out for storage, transportation, and recycling.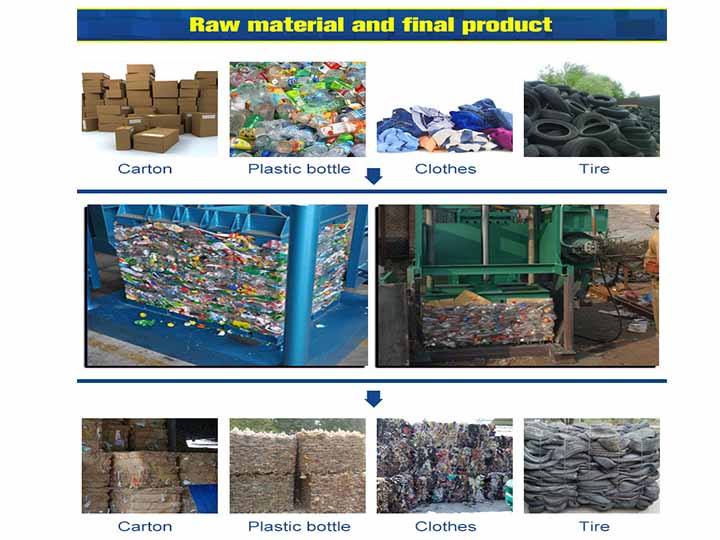 Vertical baling machine structure
Vertical baler is mainly composed of hydraulic cylinder, motor and oil tank, pressure plate, box and base, upper door, lower door, door latch, strap support, iron support, etc.
The role of the hydraulic system is to increase the force by changing the pressure. A complete hydraulic system consists of five parts, namely power components, executive components, control components, auxiliary components and hydraulic oil. Hydraulic systems can be divided into two categories: hydraulic drive systems and hydraulic control systems. The main function of the hydraulic transmission system is to transmit power and movement. Generally speaking, the hydraulic system mainly refers to the hydraulic transmission system.
Hydro-mechanical transmission power is large, and it is transmitted by fine pipes and flexible hoses, so its power density is high. In addition, the power-applicable actuator is wide and flexible, and the pressure area is changed appropriately to increase the force.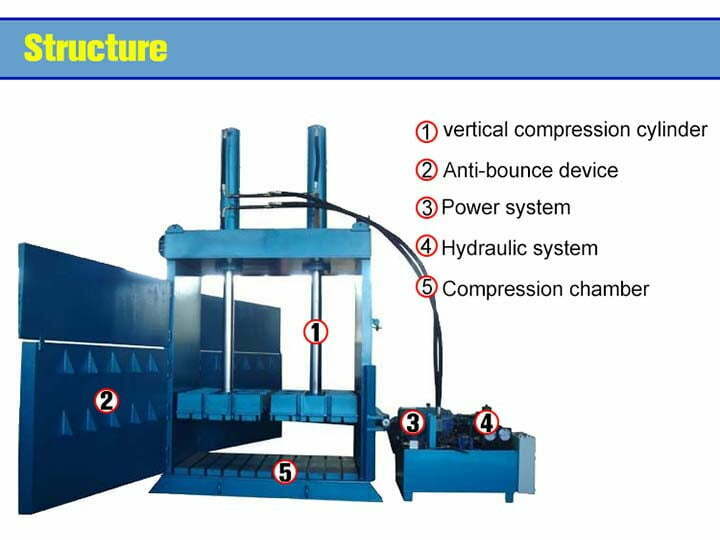 Advantages of vertical baling compactor for sale
High pressure and compaction ratio. The compaction ratio can reach 5:1.
Large driving force, suitable for heavy load direct drive;
High precision and fast response;
Small footprint and light weight;
Wide range of speed regulation and various speed control methods;
Anti-rebound barb to maintain the compression effect.
The pressure plate returns automatically.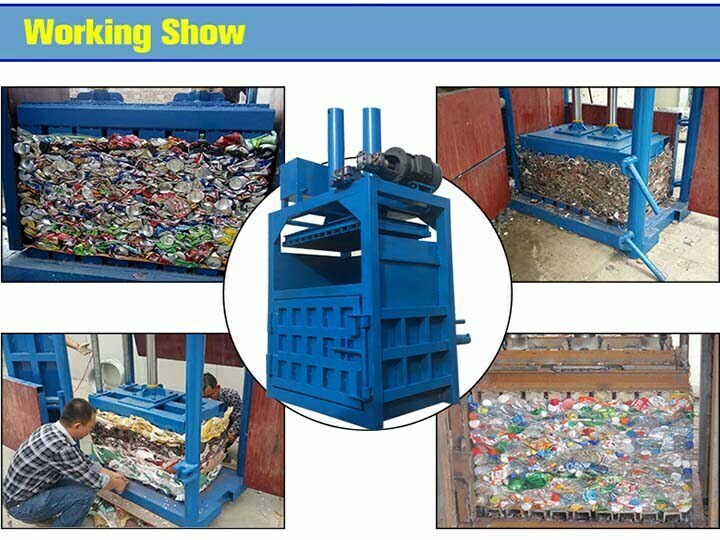 Specification
| | | | | | | |
| --- | --- | --- | --- | --- | --- | --- |
| Model | Pressure | Motor | Volume of the inner box | Final product size | Capacity | Weight |
| SL-HZ-15T | 15T | 5.5KW | 850*600*1300MM | 890*610*500MM | 1-1.5T/H | 1T |
| SL-HZ-30T | 30T | 7.5KW | 800*400*1300MM | 890*610*500MM | 1.5-2T/H | 1.5T |
| SL-HZ-60T | 60T | 7.5KW | 900*600*1300MM | 900*610*500MM | 2-2.5T/H | 2T |
| SL-HZ-80T | 80T | 7.5KW | 1200*800*1500MM | 1200*810*500MM | 3-3.5T/H | 3T |
| SL-HZ-100T | 100T | 15KW | 1100*900*1500MM | 1100*910*500MM | 3.5-4T/H | 3.5T |
| SL-HZ-120T | 120T | 18.5KW | 1200*100*1500MM | 1200*100*500MM | 4-5T/H | 4T |
How to make money with industrial baler?
The industrial baler has a vertical baler and a horizontal baler. It is divided into a full-automatic baler and a semi-automatic baler. It is used to compress waste and recycled items. After being processed by the hydraulic baler, the space occupied by the waste material is directly reduced by 80%, and at the same time, the number of transportation and the cost is reduced. Customers who want to invest in a baler can first invest in a vertical baling press machine, which has a small footprint and is very suitable for use in small spaces.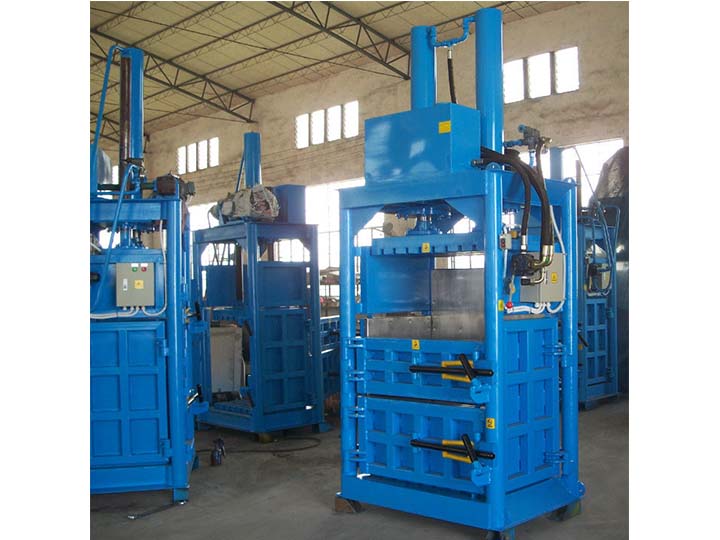 Vertical baling machine price
The vertical baler produced by our company has complete specifications, and the packaging volume of the product can be adjusted. The products we produce are strictly tested and reasonably priced. If you are interested in our vertical baling press machine, you can get free consulting services. You can contact us in time to provide preferential prices.
The vertical balers we produce are space-saving, easy to use, durable, and meet the needs of many customers. We have many years of experience in the production of recycling equipment and attach great importance to customer requirements. We also provide guaranteed after-sales maintenance, technical training, and detailed product operation instructions. We hope to cooperate with you and hope to receive a reply as soon as possible.