The waste paper baling machine is to compress all kinds of recyclable paper from a messy and loose state into a regular and compact state. The waste paper baler can save the storage and transportation cost in garbage recycling for enterprises, including the waste cartons, waste newspapers, waste industrial packaging paper, etc., which is conducive to the recycling of waste resources. The horizontal paper baler machine also known as the horizontal baling machine has the characteristics of multiple functions, large output, high efficiency, and safety.
Why do I need a waste paper bale press machine?
The rise of shopping has greatly increased the supply and demand of goods. This makes major businesses a headache for some small and large material handling issues such as foam cardboard and old cartons. At the same time, some businessmen engaged in waste recycling saw opportunities. Several major problems caused by waste:
Waste paper occupies a large space
Handling the stacked cartons or plastic bottles is labor-intensive and time-consuming
Expensive waste disposal fees
However, the waste paper can bring benefits if being recycled. The compressed waste paper is space-saving and convenient for transport for processing. The waste paper can be used to produce recycled paper products. According to the different fiber compositions, the corresponding recycling according to the paper type can give full play to the resource value. In addition to the production of recycled paper, the waste paper has other extensive recycling uses.
Waste paper baling machine advantages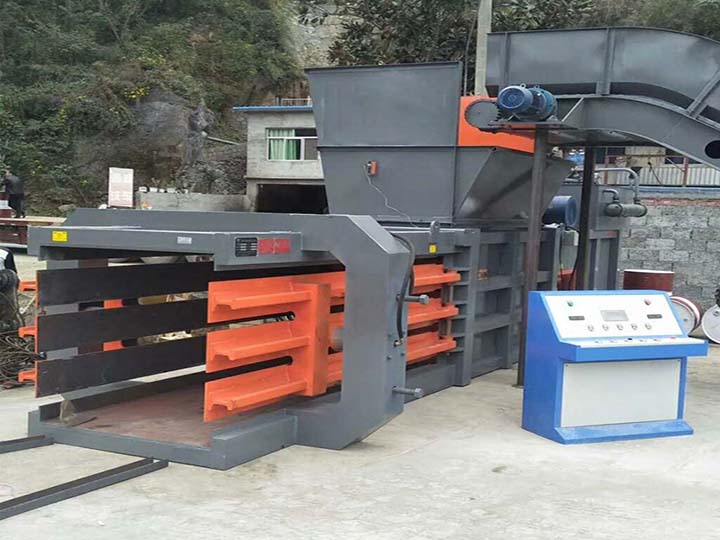 The waste paper baling press machine adopts hydraulic pressure as high as 10 tons or more to compact the materials. The hydraulic waste paper bale press machine can be equipped with a conveyor and threading machine to reach a high degree of automation. With a waste paper baler, it is only needed to throw the waste paper into the feeding port until it is full, and then compress it with the machine to get a bundle of regular paper bales. Compared with the original volume of the material, the occupied space is reduced by 80%. The waste paper baler can be used for multiple purposes, capable of handling many other materials in daily life, like tires, plastic bottles, hay, forage, cotton, wool, sawdust, clothes, and woven bags.
Working principle of automatic scrap paper baler
This waste paper baling machine uses a hydraulic cylinder to compress materials. During operation, the rotation of the motor drives the oil pump to work, and the hydraulic oil pipe from the oil tank is transported and transmitted to each hydraulic cylinder. Drive the piston rod of the oil cylinder to move laterally and compress all kinds of cardboard in the scrap box. After the threading process, the waste paper or cardboard is pushed out through the compression cylinder.
For more machine details, welcome to let us know your specific requirements.