How much is a vertical cardboard baler?
People engaged in scrap acquisition, reuse of waste materials, storage and transportation of woven scrap bags, choose a handy baler can play a multiplier effect. For the initial processing households, the business has just started. All aspects need funds. The flexible use of funds on hand is very important. Therefore, to have a basic knowledge of the vertical hydraulic baler, you can better choose to buy. On the basis of our experience in the vertical cardboard baler, there is something you should know listed below.
What is a vertical baler?
In fact, this baler belongs to the recycling class of machines, divided into the horizontal cardboard baler and the vertical cardboard baler. For investors, it has the advantages of less investment and quick results. The production efficiency fully meets the initial processing capacity. For the initial compression, the vertical baler is very suitable.
The cardboard compactor and baler are designed according to the characteristics of users' needs, steel welding production, and sturdy. After compressing and baling, the package size is proper for convenient loading, also reasonable use of storage and transportation space. In addition to this, the machine is economic and practical, to ensure effectiveness and reduce investment.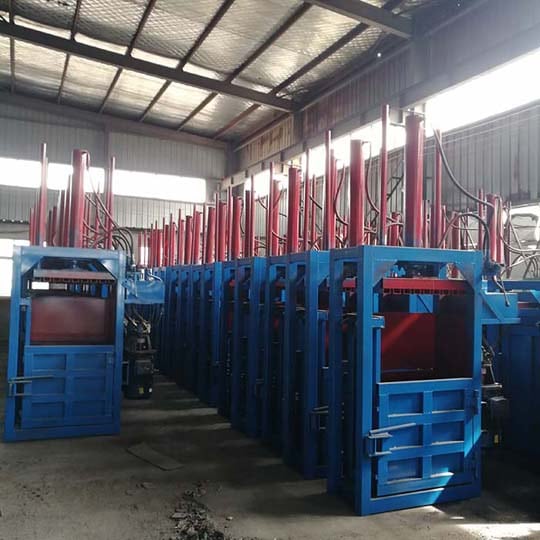 Who is interested in this vertical cardboard baler?
The hydraulic baling machine from Shuliy machinery hydraulic baler is with a diversity of use requirements. It's suitable for small and medium-sized waste recycling and collection stations. Because of the daily acquisition of some waste materials, it's able to complete the compression baling, and the equipment practicality is stronger. In addition, the compression strength and compression effect are also better. Moreover, later, the site and equipment upgrades, the equipment can also be used as a supplement to large machines, for better performance.
Factors affecting the vertical cardboard baler price
Configuration. In the case of a vertical carton baler, this machine can use an electric motor and diesel engine as power. So, when you choose an electric motor or diesel engine, the price of the machine is totally different.
Packing size. When you do cardboard packing, you want to pack 800*400*800mm and 800*400*600mm, the machine to be used is different. Thus, the price is different when you buy it.
Transportation. Because our machines need to be exported, there will definitely be some shipping costs. We are in Henan, China, when you need to ship, the destination the distance has a great impact on the shipping costs. Of course, it also naturally affects the total price of the machine.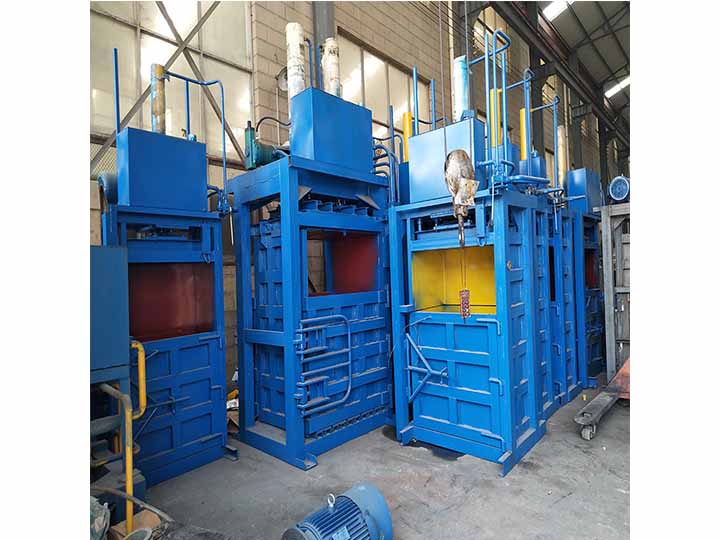 Technical parameters of vertical cardboard baler for sale
| | | | | | |
| --- | --- | --- | --- | --- | --- |
| Model | SL-10T | SL-20T | SL-30T | SL-60T | SL-80T |
| Power(kW) | 5.5 | 7.5 | 11 | 15 | 17 |
| package(mm) | 800*400*800 | 800*400*800 | 800*400*600 | 1150*750*1000 | 1150*750*1000 |
| pressure(mm) | 1000 | 1000 | 1000 | 1100 | 1100 |
| dimension(mm) | 1400*700*2900 | 1400*700*2950 | 1450*800*2950 | 1700*1000*3200 | 1800*1000*3200 |
| Oil cylinderφ | 125 | 160 | 160 | 160 | 180 |
| Baling speed(p/min) | 8-10 | 8-10 | 8-10 | 6-10 | 6-10 |
| Weight(kg) | 400 | 850 | 950 | 1600 | 2000 |
From the above table, you can clearly find there are many different types of vertical cardboard baler for sale. You tell your detailed demands, machine power, materials to be baled, etc. Our professional sales manager will provide the proper plan according to your actual needs.