The wood waste shredder is a piece of industrial recycling equipment that can crush waste wood. Capable of crushing scrap metal, it is also known as a scrap metal shredding machine. The industrial waste wood shredder machine can crush any kind of wood and wooden materials, such as waste wooden furniture, wooden formwork of buildings, wooden pallets, logs, timber, stumps, roots, and branches. Regardless of size and shape, the scrap wood shredding machine can process them into small pieces. The cutter thickness and the number of jaws of the wood pallet shredder can vary according to different materials.
Why do you need to treat these wood into fine pieces?
As trees grow for a long time, wood resources are relatively limited. If large amounts of waste wood can be recycled, the problem of wood resource shortage will be greatly alleviated. Waste wood shredder is a basic part of waste recycling. Waste wood needs to be crushed first, then reclassified and sorted, and then put into production and reuse. After wood crushing, it is more convenient to transport and treat waste wood.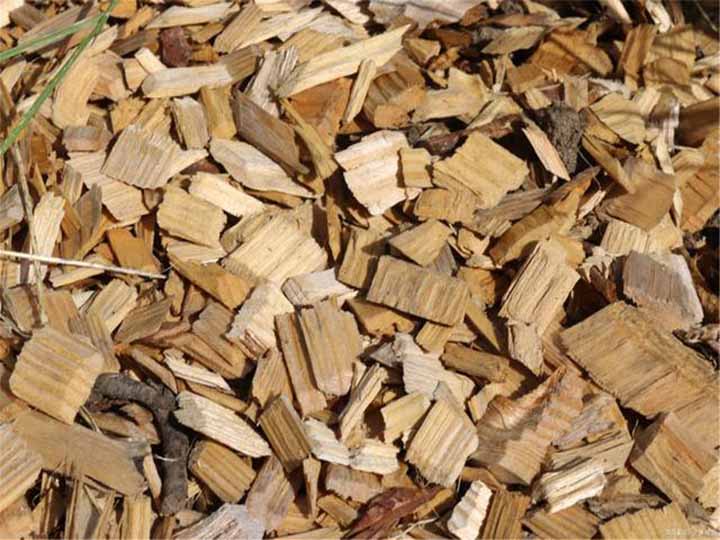 Wood shredder VS. wood crusher
The material shredded by the wood shredder can be larger in size than that by a wood crusher. The wood shredder machine can shred wood with a length of more than 1m. The blades of the wood shredder are claw-type knives, each blade and shear force are large, suitable for crushing thicker materials, harder blocks, etc.
Where are the shredded wood used?
There are many uses for shredding crushed wood with a scrap wood shredder For instance, it can be used to make compressed wood plates, fiberboard, wood pallet, packaging board, mushroom rods. The compressed wood board has been widely used in furniture production because the furniture produced is beautiful and durable.
Application scope of wood waste shredder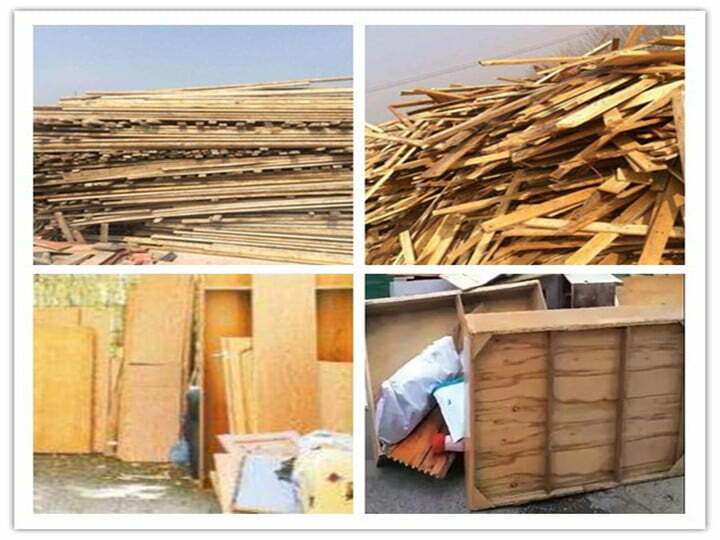 The wood shredder smashes all kinds of waste wood, such as tree roots, timber, logs, wooden trays, branches, bark, sawdust, wooden pallets, waste wood furniture, waste wood doors and windows, waste wood boards, cardboard, waste plywood, nailed wood boards, waste building templates, etc.
Industrial shredder is used for shredding plastic, rubber, fiber, paper, wood, large hollow materials and various mixed wastes, especially those containing metal, or shredding those containing sand and other easily worn wastes. For example: TV, refrigerator shell, wood, car and tire, hollow barrel, fishing net, cardboard, circuit board, etc.
How does the wood shredding machine work?
The raw waste material enters the crushing box through the feeding system of the wood pallet shredder. The box carries the crushing blades. The pushing box pushes the material near the blades. Under the combined action of tearing, extrusion, and shearing of the crushing blade, the material is crushed into small pieces and discharged from the screen hole.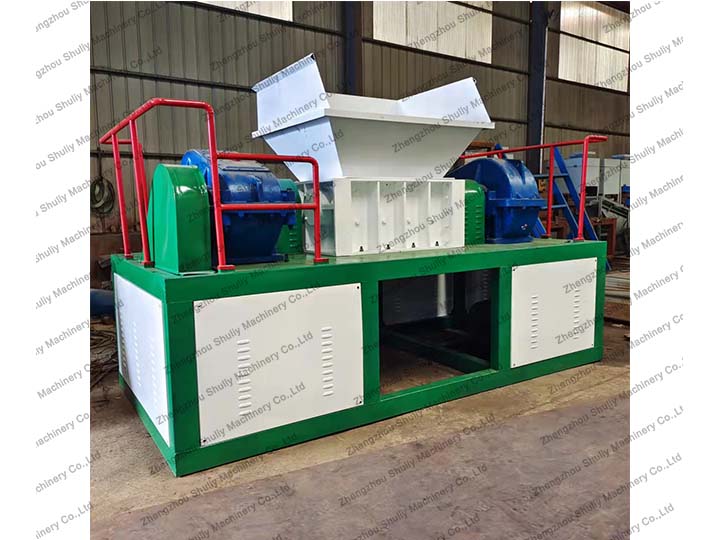 Advantages of industrial waste wood shredder machine
Double shaft and single shaft shredders are available. Twin shaft wood shredder has greater tearing force and higher efficiency.
The wood waste shredder has the advantages of high efficiency, uniform discharge and shredding, no noise and low energy consumption.
Inside the shredder is the shear tool. Tearing and extrusion make the material into small pieces. The cutting tool is made of high-quality alloy steel material, so that the crushing efficiency is high when crushing materials with large volume of plastic, rubber and wood.
The machine shell is made of engineering steel plate with thick material, which can resist high torque and is very solid. Equipped with reducer, it works stably without noise.
Bearing is detachable. the moving blades, static blades and bearing parts can be quickly removed for maintenance and replacement of cutting tools,
According to different discharges, the specifications, quantity and claw number of tools used are different, which can be customized according to the actual needs of users. When crushing hollow materials, pressurization device can be equipped to increase production.
The feed port is large, and the feed hopper can be customized.
The wood shredding machine is easy to adjust, low maintenance cost, economical and durable. It is a good helper for many customers in the waste recycling industry.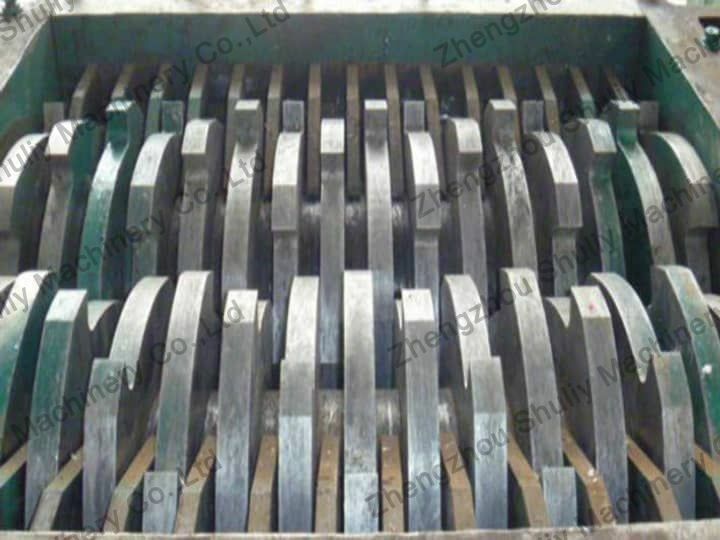 Specification of Model SL-1000
We offer single shaft and twin shaft wood waste shredders of various models. The following is the general technical data of Model SL-1000. Actually, the number of blades can be different according to customers' needs. The blades also have different types with different thicknesses and numbers of cutter teeth. The hopper size is large, convenient for feeding large solid materials. For special needs, we can offer customized services. Welcome to send us your requirements.
| | |
| --- | --- |
| Motor power | 45KW*2 |
| Blade thickness | 50mm |
| Number of blades | 20 |
| Shaft diameter | 260mm |
| Hopper size | 1400x1200mm |
| Machine dimension | 4500*1900*220mm |
| Weight | 1100KG |
Industrial wood shredding machine working video