Waste tyre baler also known as vertical baler machine is mainly used to compress all kinds of vehicle tires, such as automobile tires, small truck tires, large truck tires, and other waste rubber products into dense bales. The tyre baling machine is a professional solution for the environmental problems caused by the increasing number of waste tires. The packaged tyres can be recycled and made into new rubber products to create economic value. This vertical tire baling machine is multi-purpose, suitable for compressing waste woven bags, waste plastic bottles, clothes, cotton, etc.
Waste tyre baler structure
Waste tyre baling machine is mainly composed of the compression chamber, vertical compression cylinder, anti-rebound device, hydraulic system, hydraulic door locking mechanism, power system, and other product structures. The specific components mainly include feeding port, pressing plate, compression chamber, frame, console, electrical system, oil pump; motor, oil tank, main hydraulic cylinder, discharging device, and rebound device.
Highlights of tyre baling machine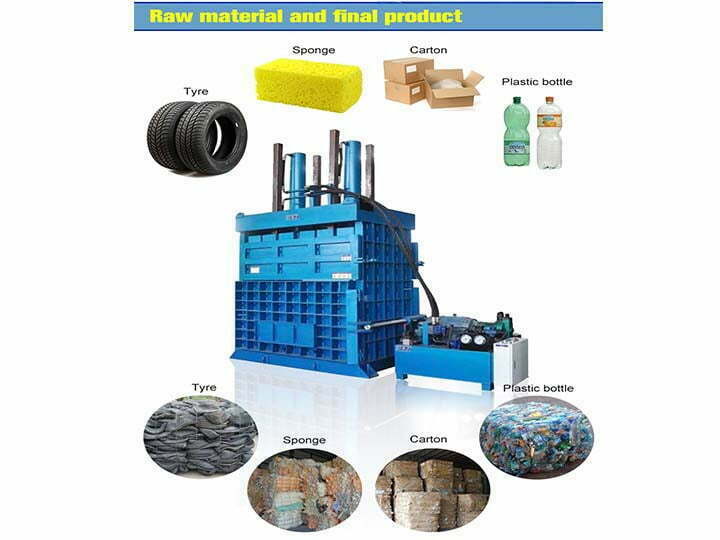 1. The tyre baler is easy to install and does not require a foundation.
2. Machine capacity and product size can be customized according to customers' requirements.
3. A diesel engine can be used for power when electrical power is not available.
4. The discharging modes include turning over, pushing the bag, or manually taking the bag out, and others.
5. Wide filling port is convenient.
6. Suitable for various waste materials.
Working principle of scrap tire baler machine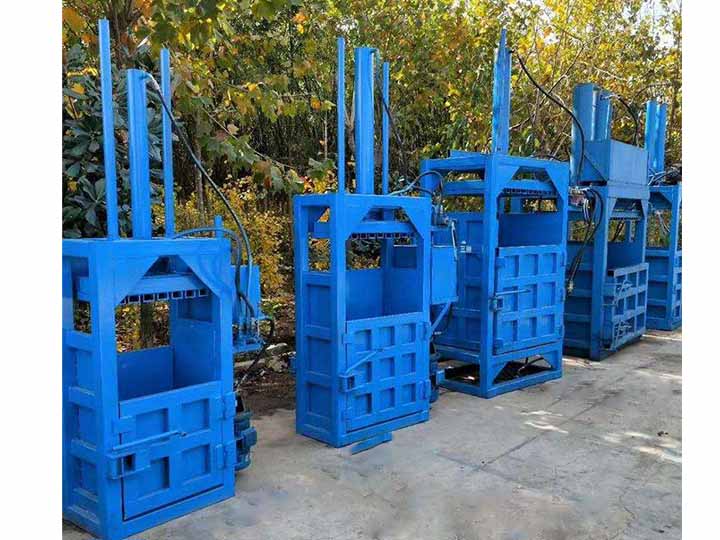 The rubber baler rotates through the motor and extracts the hydraulic oil in the hydraulic oil tank to drive the oil cylinder to run, squeezing the tire into a flat shape for reduction of the volume of waste. The pressure plate adopts a linkage design to avoid deformation and damage of the overall pressure plate under uneven stress. Intelligent control is easy to operate and time-saving. Multiple safety protection functions ensure a safe operation.
Vertical rubber baler parameter
| | |
| --- | --- |
| Model | SLV-120 |
| Pressure | 120T |
| Power | 18.5kw |
| Capacity | 7-8 bales per hour |
| Bale weight | 400-600kg |
| Bale size | 1100 x 800 x700-1000mm |
| Machine size | 1500x1200x3800mm |
| Machine weight | About 3.2 tons |