A cardboard baler is a professional machine used for waste recycling. The automatic hydraulic baler can compact a wide range of common recyclable materials in daily life such as cardboard, cartons, papers, plastic bottles, aluminum cans, etc. The industrial cardboard compactor is to pressurize the materials in the feeding box by the hydraulic device to compress and bind the waste materials. Shuliy Machinery provides two types of waste paper balers: vertical baling press machine and horizontal baling press machine. The specifications of the baling equipment are various and the baling size can be customized. 
Where are the cardboard baler used?
There are many kinds of waste paper in daily life, including all kinds of high-grade paper, yellow paper, waste paperboard, as well as all kinds of edge cutting paper in paper mills, the paper used by enterprises, engineering paper, books, and periodicals, waste newspapers, etc. The cardboard baling machine can not only pack paper items, but also compress soft materials such as plastic bottles, aluminum cans, plastic bags, and old clothes. Therefore, the waste paper bale press machine is suitable for the recycling and processing of major old objects. As long as you are in an environment where a lot of waste resources are generated every day and occupy a lot of space, a waste paper baling machine can be a high-efficient helper. For example, large amounts of grass fodder from pastures, industrial paper from factories, office paper from offices, plastic items from plastic recycling stations, cartons and cans for goods in supermarkets, etc. The waste cardboard compactor has a wide range of applications, and it is your first choice and a must for investment.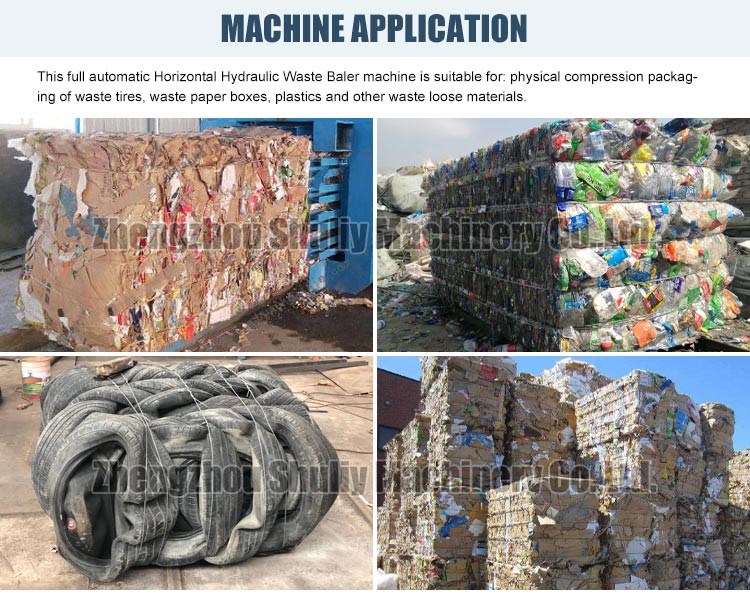 Type 1: Vertical cardboard baling press machine
This kind of cardboard baling press machine is mainly composed of a hydraulic cylinder, motor and fuel tank, pressure plate, box body and base, upper door, lower door, door latch, strap bracket, iron support, etc. Its structure is compact, and its design is safe and firm. The vertical baler is easy to move and install. Because it only takes up a small amount of space, the carton baler is suitable for the recycling of waste cartons and office paper in small and medium supermarkets, farms, and factories.
Type 2: Horizontal waste carton baler machine
The horizontal cardboard baling machine mainly includes a feeding conveyor, feed hopper, PLC control electrical cabinet, lacing machine, tie machine, discharging pulley, hydraulic cylinder, etc. It has a larger body size, a larger feed capacity, and a stronger compression force relative to the vertical baler. The belt conveyor can easily collect and pack a large amount of waste paper, which is abrasion-resistant and non-slip. The carton compactor machine has a high-performance, low-noise hydraulic circuit system, which is environmentally friendly and energy-saving. It is suitable for medium and large waste recycling and processing factories, companies, etc.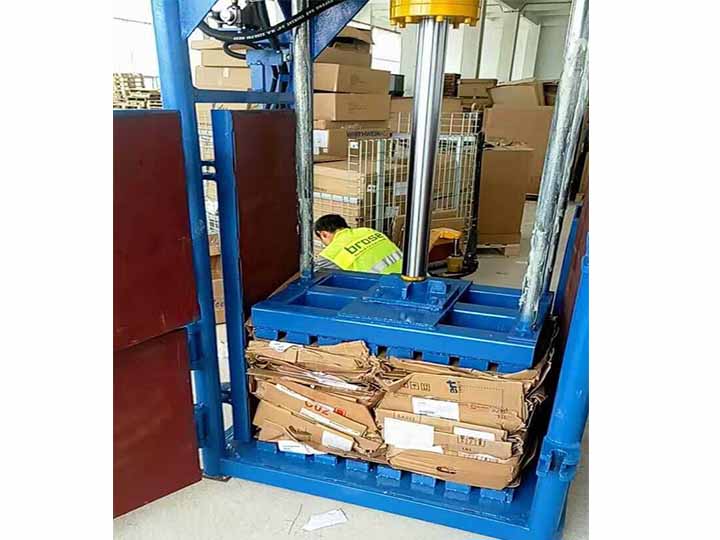 Structure features of carton baling press machine
The package size is adjustable, suitable for transportation and loading.
The feeding door is convenient and can be equipped with conveyor belt.
The pressure alarm system is configured. When the weight of the package reaches the set weight, the equipment will alarm automatically.
The compressed package is pushed out automatically, which is labor-saving and safe.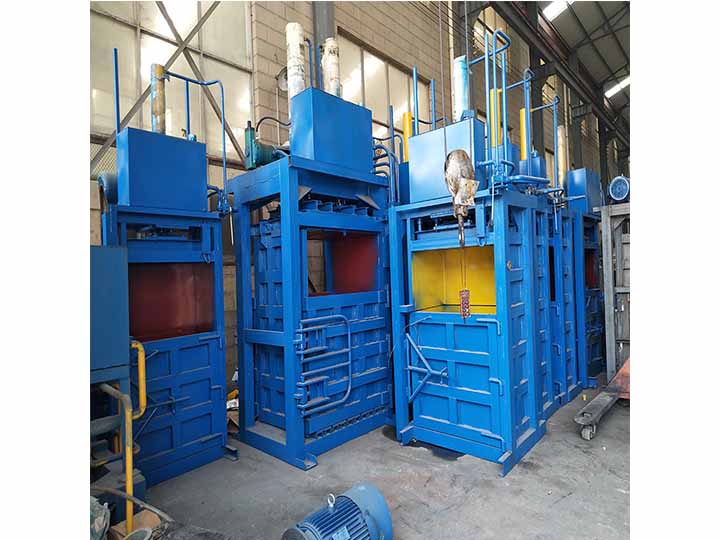 Waste cardboard baling machine for sale
Our company is a well-known manufacturer of waste cardboard baler machines in China. We have our own R&D team, manufacturing team, and business team, and we provide comprehensive services to each customer. We produce many types of scrap paper baler, which can be customized. The waste baling cardboard baling machine is a low-investment and high-return equipment. We also .